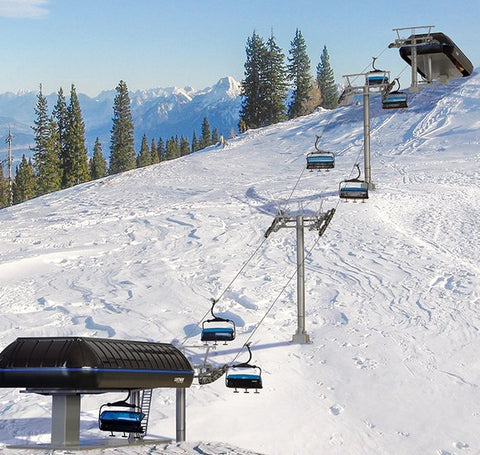 Brawa 6346 SESSELBAHN Chairlift
CONTENT:
8 modern 6-seat gondolas
4 masts
Building set for mountain and valley station
Drive unit with complete mountain and valley station
Cable 10 m long (Order no. 6292)
Powerful, low gear ratio, low-noise motor with integrated gearbox
Simple assembly
Funicular systems from LEITNER ropeways are used throughout the world and fulfil various tasks with sustained success. In the year 1888 the sterzinger mechanic Gabriel Leitner opened a workshop for agricultural machinery and material express courses in its hometown in South Tyrol. In 1908 the first aerial ropeway proximity to Bolzano was finally built. Conditions were different at that time and the ability to get to the top of a mountain so quickly and easily was considered a sensation. As one of the leading global manufacturers of cableway systems, LEITNER ropeways currently produces primarily technically advanced detachable gondola lifts and chairlifts, aerial tramways, funicular ropeways, inclined elevators and fix-gripped ski lifts. LEITNER has supplied over 2,000 kilometres of funiculars in 50 countries. In winter it's skiers and snowboarders who want to be transported; in summer very different passengers, from hikers to mountain bikers through to paraglider pilots, use the funiculars for transport. The funiculars continue to offer increased comfort and a stimulating travel experience. The new BRAWA chairlift is modelled after a detachable 6-seat lift. The desire to innovate and attention to quality have always ensured that the automatically detachable chairlifts from LEITNER ropeways are state of-the-art and simultaneously set new standards for comfort, design and efficiency. Since the beginning, the successful design of automatically detachable chairlifts has been based on the uncompromising pursuit of quality and the prioritisation of efficiency. All LEITNER chairs, the 4-, 6-, and 8-seater, offer exclusive comfort and can be ordered with optional seat heating and a lockable safety bracket. The LEITNER seat canopies have an attractive and functional design: in particular at windy elevations, at extreme sub-zero temperatures and on long routes, canopy chairs are the ideal mode of transport. The blue hoods provide thereby permanently a blue sky. In addition, a wide seat, a raised seat back and an optimally shaped footrest provide premium sitting comfort.
6346